Make your projections magically interactive.
MDC-Touch, your new best friend!
By using the MDC-Touch you can remotely control the Mirror Head and MDC-X Media Server. Imagine you are a business owner:
Your client walks into your shop,
You click your smartphone or tablet,
Suddenly a projection appears in front of your client,
Surprise, with a very personal touch!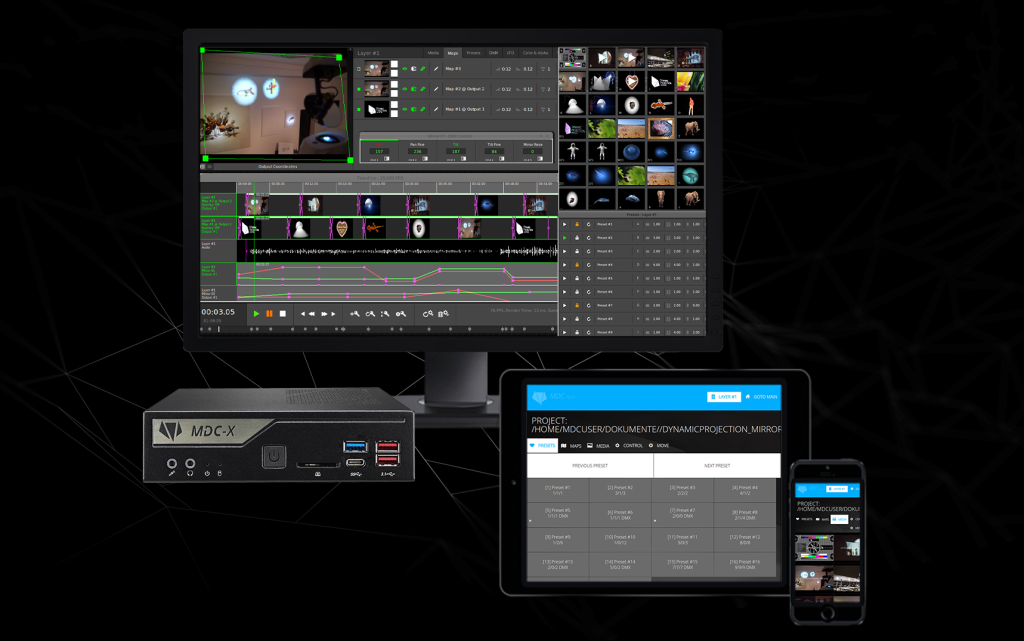 In real time, you can start and stop your projection shows with just one click as well as you can change the projection position and media content that are being projected. With the MDC-Touch, you are also able to modify and launch show automatizations.
MDC-Touch allows customers to remotely control the MDC-X Media Server using any device that has a browser (e.g. smartphones, tablets or desktop computers). As the MDC-Touch developed by Dynamic Projection Institute is a web-interface app, you do not need to install any software or application, simply use any device that has a web-browser.
MDC-Touch – Key Features
• Web-based user interface for any device with browsers (eg. mobile phones, tablet, laptops, etc…)
• Your mobile App to Control the Mirror Head, the Projector and Presets
• Preview all Media with thumbnails
• Your web-based remote control for MDC projects
• Start and stop your projects and playlists with one click.
• Easily switch between automatic and manual shows.
• Multi-user and multitasking system
• "Customer Panel" for easy grouping of common tasks.
• Responsive Design – Use any screen or any device.
MDC Touch User Manual: click here to download the PDF.